Ghost Walking Tours
2015 Video
In downtown Tallahassee with Lively Performances held annually each October and year-round for pre-formed group activity tours. Be led by costumed guides to places said to be haunted in Florida's Capital City and to Florida's Old public burying ground. Meet characters from the past who tell their tales of woe. Startling, yet lighthearted, all tours conclude at Old City Cemetery. You do not go in the cemetery, but get close enough. The ghost walking tours are generally forty-five minutes; slight hills along the tour route.
---
Annual 2017 Ghost Walking Tour Event, Friday, Saturday and Sunday, October 27, 28 and 29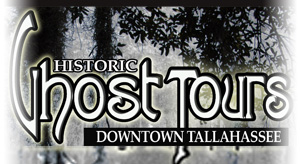 Forty-five minute tours depart on the half-hour starting at 6:30PM from Andrew's Capital Grill & Bar, 228 S. Adams Street, Tallahassee, FL 32301. The last tour departs at 9:30PM. Reservations are strongly recommended. Tickets are purchased the night of your tour in front of Andrews.
$17/pp, $5 per child five and under, no charge for the baby (Price includes Florida Sales Tax). One adult chaperone per two children five and under is required. We love families, but please no strollers. Group rates are available with advance booking and advance payment. Group bookings cannot be refunded. Checks and cash payment preferred. Reservations are strongly advised.
Event Photos: 2013 | 2012 | 2011 | 2010 | 2009 | 2008 | 2007 | 2006
[Year-Round] Ghost Walking Tours
Pre-Formed-Group Activity Tour. Group tour prices vary depending on the number of people in your group. Two week advance reservation and deposit required. Cash and checks are accepted. Group tours are developed per needs of the individual group.